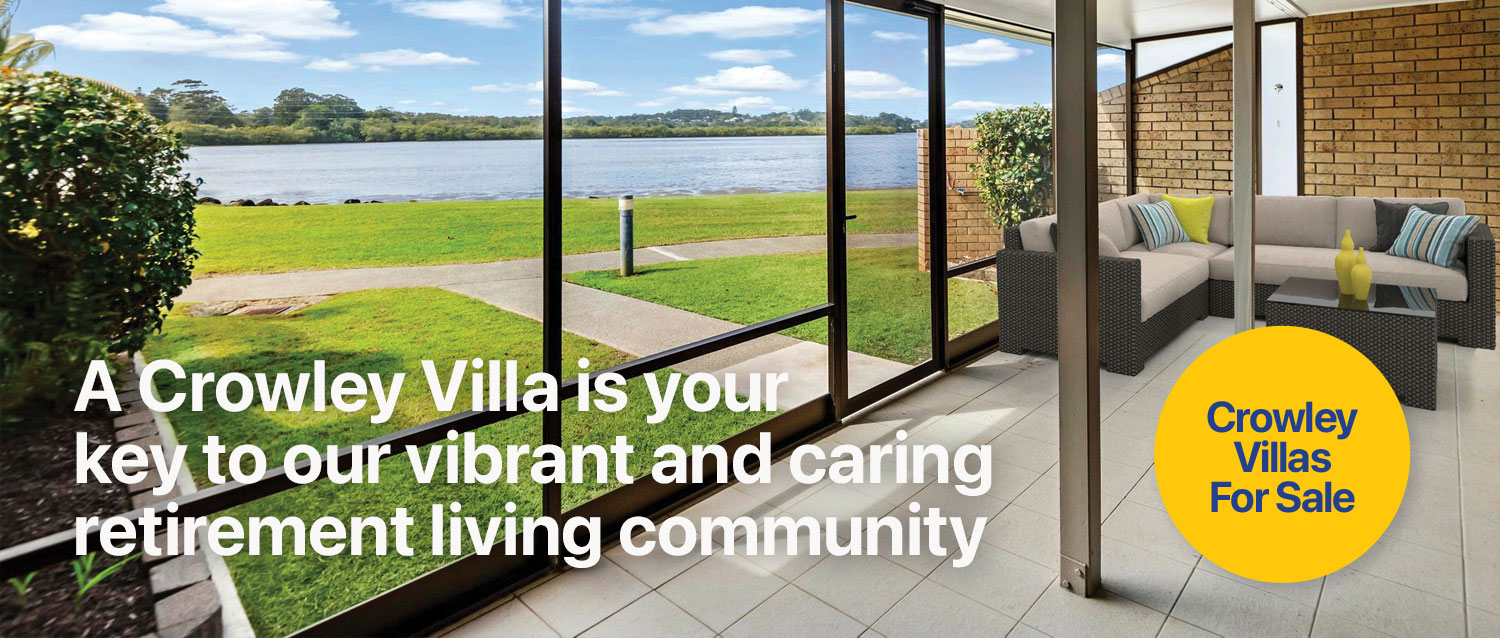 Securing an apartment or villa at Crowley
Enjoy the freedom of retirement with an option of care at call.
Living at Crowley
At Crowley we appreciate the simple things, and we're confident you will appreciate how simple the figures can be to live in an apartment or villa.
All your costs are known upfront and fixed from the day you move in. No Surprises.
How does it work?
The Crowley Retirement Village Contract financial arrangement consists of two components.
1. Entry Payment
35% non-refundable portion
65% refundable portion
2. Ongoing Weekly
The

weekly recurrent charge (this charge covers water, land, sewage rates, building and ground maintenance, building insurance and more), is currently $129.50
Example:
Apartment or villa entry payment: $500,000

Non-refundable portion (35%) $175,000

Refundable portion (65%) $325,000 (Refunded to you on exit)
Contract Benefits
No Stamp Duty
No refurbishment costs
No complicated exit calculations
No responsibility to sell

Guaranteed fixed refundable portion
Call us on
1300 139 099 or

click here to contact us about any of these properties
Crowley Villas currently for sale
Crowley villas have been designed with you in mind, keeping things as simple and practical as possible to ensure an easy low maintenance lifestyle. All of our bright and airy villas consist of an open plan living and kitchen design, a large functional combined bathroom and laundry, ceiling fans and built-in wardrobes
Choose between our one and two bedroom options and enjoy the cooling breezes of the waterfront location on the banks of North Creek. Optimising the allure of Ballina's relaxed lifestyle, our village rests just a stroll to cafés, restaurants and shopping centres.
Please note: Photos and floor plan above are indicative, your villa may vary
Price: $480,000
Property type: Villa
Bedrooms: 2
Bathrooms: 1
Car spaces: 1
Now under contract

Large front and back courtyards




Detached garage




Close to public transport
Click here to contact us about this villa
Price: $420,000
Property type: Villa
Bedrooms: 1
Bathrooms: 1
Car spaces: 1
Now under contract
Large rear courtyard
Attached Garage
Air-conditioning
Enclosed screen room
Close to village plaza
Entry Payment
Non-refundable portion (35%): $273,00
Refundable portion (65%): $147,000
Click here to contact us about this villa
Price: $440,000
Property type: Villa
Bedrooms: 1
Bathrooms: 1
Car spaces: 1
Now under contract

Large open front courtyard
Detached garage
Air-conditioned
Large paved and enclosed rear courtyard
Positioned within walking distance to village plaza and public transport
Entry Payment
Non-refundable portion (35%): $273,00
Refundable portion (65%): $147,000
Click here to contact us about this villa
Price: $460,000
Property type: Villa
Bedrooms: 2
Bathrooms: 1
Car spaces: 1
Now Under Contract
Large private front yard
Detached garage
Air-conditioned
Close to village plaza
Entry Payment
Non-refundable portion (35%): $299,00
Refundable portion (65%): $161,000
Click here to contact us about this villa
Price: $405,000
Property type: Villa
Bedrooms: 1
Bathrooms: 1
Car spaces: 0
Ready Now
Large screened room
Paved rear area
Entry Payment
Non-refundable portion (35%): $299,00
Refundable portion (65%): $161,000
Click here to contact us about this villa
Contact Us About Buying at Crowley